Matroska Editions
As mentioned in my previous post, all our future releases (and re-releases of older series) will feature editions. Let me take a few moments to explain what editions are in case you don't know.
Before we get to editions, I'll first explain how chapters work. There are two types of said chapters: "normal" chapters which link to a specific time spot in the same file, and "ordered" chapters, which can link to a time spot in a different file. This is what we did with To LOVE-Ru and some other series. We cut out the opening and endings, made them become separate files and then made sure there's a chapter entry in every main episode that linked to those openings/endings.
Now, editions group a bunch of chapters together (either "normal" or "ordered"). You can have multiple editions, so you can have multiple groups of chapters. This comes in handy if, say, you want to choose whether to watch our anime with hardsubbed or softsubbed karaoke. We'll just release two versions of the OP/EDs, one with hardsubbed karaoke and one with softsubbed karaoke. You then just open the main episode and can choose what you want your media player to play back by picking your edition of choice. Real world examples:
Picture #1 and #2: Open the episode, right click on the white icon in the task bar (it's called Haali Media Splitter), select your edition! (click to enlarge)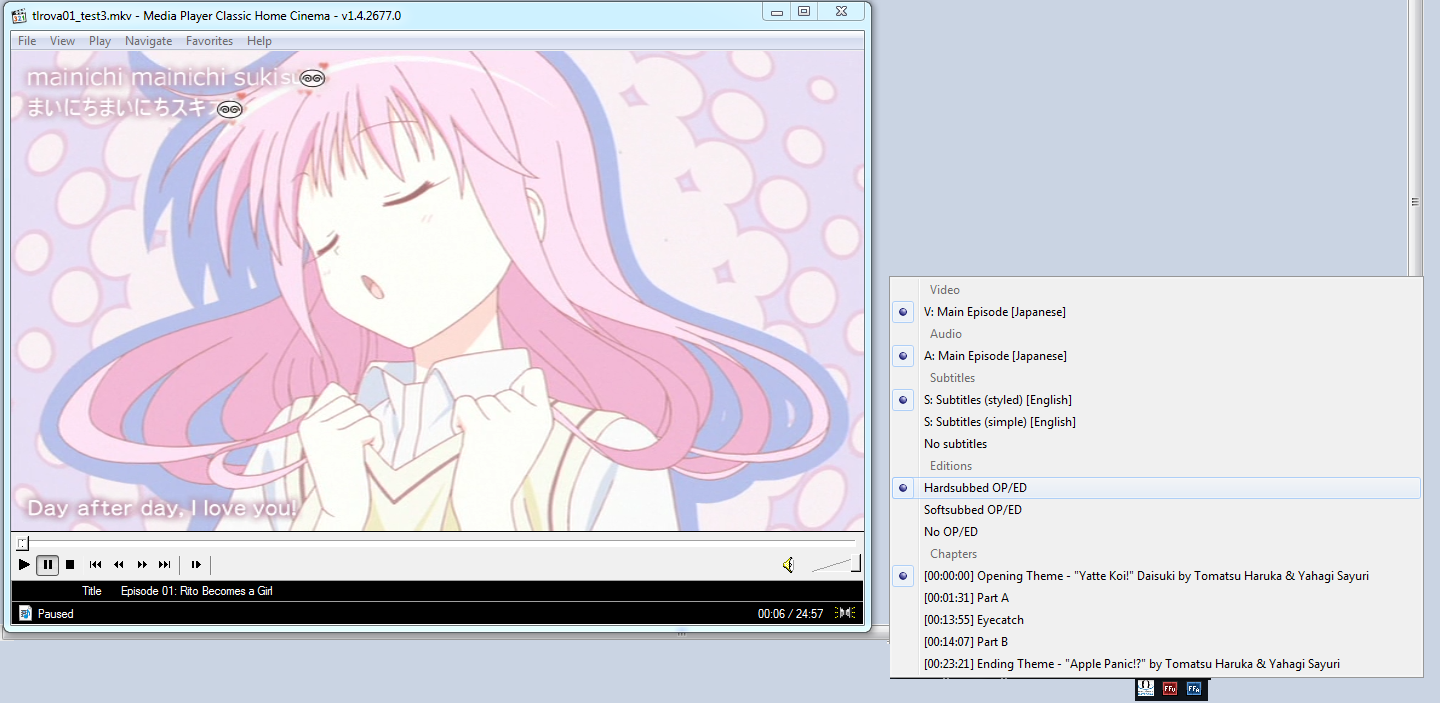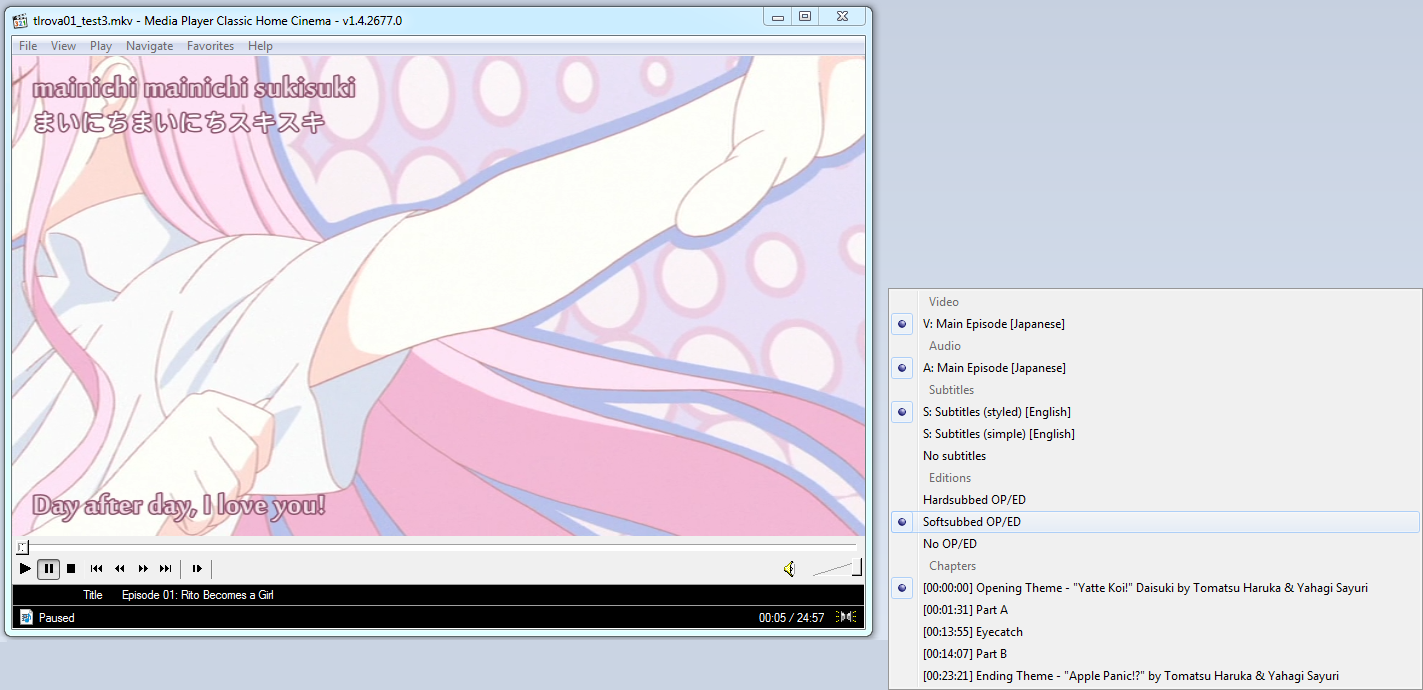 Alternatively, in MPlayer you can just use this command: mplayer file.mkv -edition 0 (edition 0 loads the first edition, edition 1 the second one, etc…)
Specify the edition (set of chapters) to use, where 0 is the first. If set to

-1 (the default), MPlayer will choose the first edition declared as a default,

or if there is no default, the first edition defined.
We also included a third option that will make sure no OP/ED gets loaded at all.
These screenshots also show that each edition contains its own set of chapters (e.g. "No OP/ED" won't load the Opening and Ending chapters).
We can still turn this a notch higher by creating a fake file that just has a few frames of black screen. The file itself weighs in at just a few kilobytes. By making use of editions, though, we can make it load all six episodes of TLR OVA for example. All episodes will get loaded, resulting in a timeline of more than 2 hours.
Picture #3: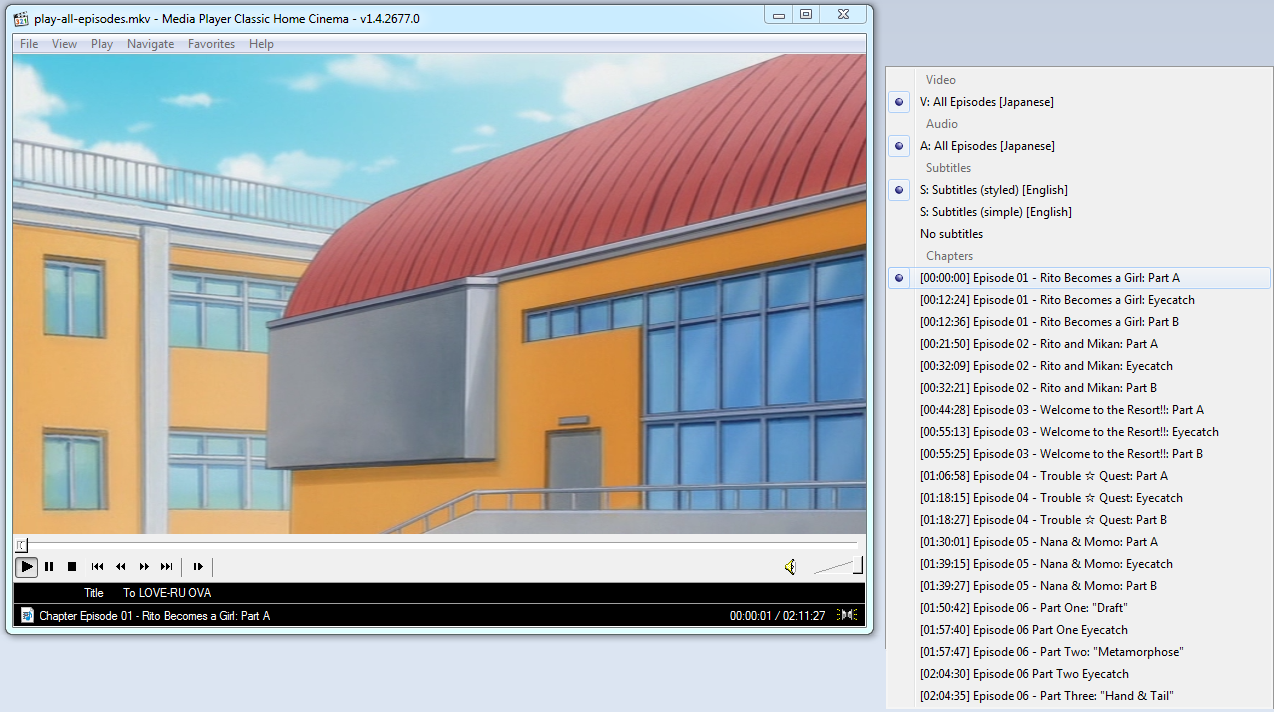 Hitsuji did a really nice job on Haruhi in 2007 by the way, and they're pretty much the only ones I know of that went this far with matroska and editions (yet!). Saizen did some nice things with their Soul Eater releases (which got dropped after episode 4). They joined together the normal TV airing and the late night show by using editions.
If i got you interested now and you want to know more about what is possible with Matroska, I highly suggest you check Fluff's post on his blog.
Comments
Write a comment