Himawari!! – 12 & 13
Merry Christmas!
For all of you who doubted we'd finish Himawari!! this year… (and voted "2010" on the "When do you think we'll release Himawari – 13" poll…) Hey, we're not that slow, alright? Though you've pushed our motivation, so thanks for that. :p
Episode 12 is mostly centered around Shikimi and her past (see picture above), episode 13 is centered around… well… they finally do it?! You'll have to find out.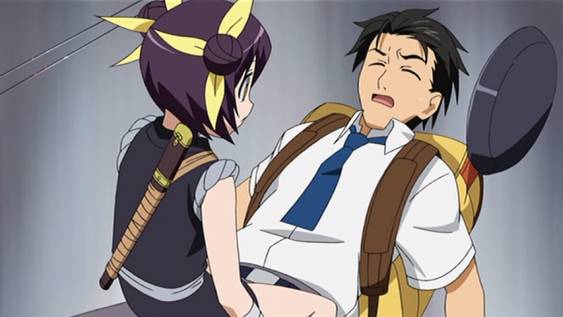 So… we're finally done with Himawari!! It's been a long journey, way longer than the we anticipated it to be. Heck, most of the original team already left Yabai and we've had to deal with a lot of problems. But we're done now, it's all good…
Here's a few words of some of the staff members who worked on Himawari!!:
limpakos (QCed ep 6-13)
"in  your face suckers" for those who voted that we would release in 2010 ;p
Skyward (encoded ep 1-5)
"Himawari seems far more enjoyable now that I'm no longer working on it"
Mandarinka (encoded ep 6-13)
"I'd say, seriously… through two seasons, and no nipples int he end."
Futamaru (TLCd ep1, translated 2-13):
As requested by jama, in conjunction with the completion of the Himawari!! project, here are some words of thought that I have for this project. (sounds formal =P)
The initiation of the project can be back-dated to about 2 years ago (Nov 2007), when I lingered around in #Zero-raws, MurderousAngel approached me (she's no longer involved in the fansubbing community, but I think she deserves to be mentioned.) Then I was introduced to a few staff members which I have forgotten most of their names. Because things didn't go as planned, a few members from the group split off and formed Yabai, which I am proud to be one of the founding members of. From there, Himawari!! episodes were released slowly (yeah SLOWLY) but steadily.
Well… I am not good at giving speeches. Here's some things jama suggested me to talk about:
"You're now done with this series. How did you like it?"
Well… The series is quite nice to watch, especially when you are bored. I find it entertaining due to some of the nonsense jokes in it. Overall, it's nice, but most importantly, we have a nice team that worked on it, and there are still fans that are longing for more Himawari.
"It took you more than 2 years, why so long?"
Well… Whenever you forward this question to anyone in fansubbing community, you will get the same answer. The answer is so obvious, I refuse to say it. :P
"Was it hard to translate Himawari?"
Generally it's not that hard. But sometimes it drives me crazy. To name a few situation, when Yusura gives some nonsense metaphor, and Himeji with her weird Indian (she's dark) slang, and Himawari's speed in speaking.
"Would you do it again if you had the chance? What about translating season 1?"
The answer is "No". I have withrawn from Yabai, due to RL issues. Moreover I don't want to get ear cancer by listening over and over for sentences that I don't get clearly. As for season 1, I can't say anything about other groups or on behalf of Yabai, if they want to do it, they will do it. [Note: We definitely won't.] By the way, there is already a complete release by GNU for the first season.
Finally, I feel very happy because this is the second series, and most likely the last, that I have completed. I will slowly vanish from the fansub community (as translator, but not leecher xD). Hope you all enjoy the quality release of Yabai as your Christmas present. Wish you all a Merry Christmas and a Happy New Year.
As I think Futamaru's "speech" covers most of what I wanted to say anyway, I'll keep the rest of my post short. :p
Thanks go to everyone who supported us on Himawari and worked on it! Also we'd like to thank all of you who sticked with us and never gave up waiting (as if you'd have had any other choice *kukuku*)!
Additional information:
We released Himawari!! – 01 on 5 May, 2008, Episode 13 on 25 December 2009, that's 599 days between ep 1 and ep 13.
This is the first series Yabai worked on and the first we completed. Makes me become kind of sentimental. :')
We might do a rev2 batch (something like Mazui did with Haruhi S2), but even if we'd do it, we'd not do it any time soon.
We're gonna try to finish up two secret projects and Eve no Jikan next. We haven't forgotten about Seto no Hanayome and To LOVE-Ru, don't worry, we just have to set priorities right now.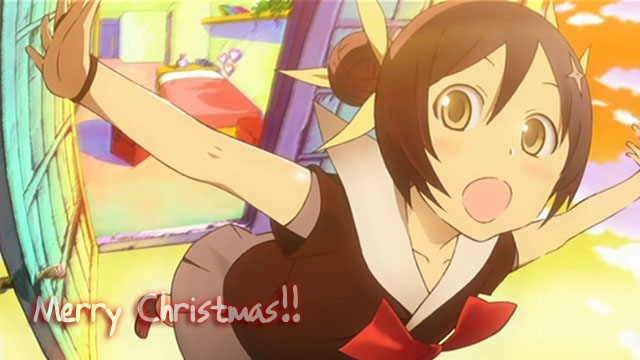 Torrents:
Episode 12: [Yabai]_Himawari!!_-_12_[DVD][5D90388C].mkv
Episode 13: [Yabai]_Himawari!!_-_13_[DVD][E87686D5].mkv
Episode 01-13 Batch: [Yabai]​_Himawari!!​_01-13​_[DVD]
IRC: #yabai@irc.rizon.net
Comments
Write a comment